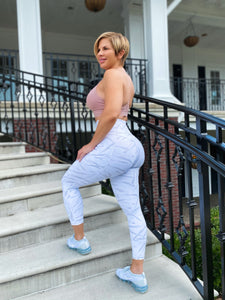 My third edition program is helping you continue your glute gains by incorporating a new technique that is different than the previous two guides.

And no, you do NOT have to complete the first two programs in order to do this one. You can join us even if you are brand new!

Inside this program, I'm taking you through progressive weight loads as well as time under tension. These two techniques combined will help increase your hypertrophy - aka your gains!!

If you are ready to continue building those beautiful curves with me, following the same routines that I personally use for my current training style, this new guide is for you, beautiful!!

What's included:
4 week training program
gym + home available
glute-based workouts x 3 days per week
upper body workouts x 2 days a week
progressive strength training
time under tension training
cardio included
ab routines included
video demonstrations of each exercise
photo reference of each exercise
mobile-friendly
download + save it to all your devices
international-friendly, English only
yours to keep forever!
Gym version available.
Home version available.

Home Equipment Needed:

*If bands are sold out on the X Bands website, please DM me! :)

⚠️ IMPORTANT: The program will be emailed to you immediately after purchase. Please use your best email at checkout and double-check the spelling to ensure proper delivery.